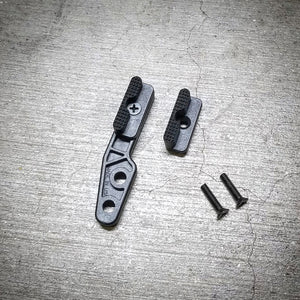 Light-bearing Concealment Wing/Claw
Regular price $10.00 Sale
* for use on light-bearing inside-the-waistband holsters.
Ambidextrous concealment wing/claw.  Includes longer screws and 2 different riser adjustments.   
Adding this to your inside-the-waistband holster will enhance concealment and reduce "printing" by rotating the grip of the pistol into your body.  It is especially effective on fullsize guns, extended mags and flared mag wells.  It also makes smaller guns even more concealable.
Just re-use your original screw posts, spacers, and washers.  Replace your original screws with the included longer screws, if necessary. (Might not work with holsters from other companies)